US Petrochemical Supply Chain & Logistics Solutions Whitepaper
Petrochemical Update is a trading name of FCBI Energy Ltd.
Registered in England and Wales no.4388971. Registered address 7-9 Fashion Street, London, E1 6PX, UK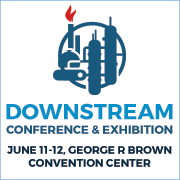 Get your copy of the complimentary whitepaper here:

As the U.S. becomes the largest energy producer in the world with the U.S. Gulf leading production, it has created the biggest challenge the energy industry has seen in a generation and demands for creative solutions for the supply chain have never been so vast.
Petrochemical Update hosted the Supply Chain and Logistics Conference in Houston in November 2018, bringing together more than 700 leading supply chain executives to gain insights and explore solutions to these dilemmas. This paper provides a summary of some of the highlights these experts discussed, including optimal solutions for trucking, rail, digital supply chains, the trade war and improving logistical efficiencies.

Complete the form on the right-hand side for your copy of the free white-paper >>>

Including insights from industry experts including:
For more information or feedback on the above, please get in touch.
Kind regards,
Complete the form on the right-hand side for your copy of the free whitepaper >>>
This paper provides an expert view on how to tackle the biggest challenges facing the Supply Chain industry, including;
US Supply Chain Overview – Discover why the US is poised to become a world leader in oil production
Supply Chain Needs in 2019 and Beyond – How does the industry need to react to becoming a net exporter?
The Digital Supply Chain - What Can Blockchain do for You? – Are you asking the wrong questions on how to harness this disruptive technology for your business?
Trucking Issues and Solutions – In the face of a record driver shortage what can be done to turn the tide and help alleviate the resultant bottlenecks?
Improving Rail Efficiencies – How can the rail industry overcome communication, forecasting, infrastructure and performance issues?
Trade Wars 101 – What impact will Trump's ongoing trade War have on business confidence and financial markets?
Complete the form on the right-hand side for your copy of the free whitepaper >>>